By Craig Andresen – Right Side Patriots on American Political Radio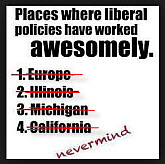 This is the time of the year when states…all of them…introduce new legislative proposals, hoping, often times beyond hope, that such proposals will, indeed, become the laws of their respective states.
Some of the new proposals make sense, but, a vast majority are just plain stupid.
When it comes to stupid…
You can't fix it, but you can sure find it in California.
Yes…that bastion of left coast liberalism, California, is perhaps the nation's leader in butt-stupid laws every year, and this year is certainly no exception. Before we get into what may well be this year's bone-crushingly stupid law proposals from the land of fruits, nuts and flakes…perhaps we should first have a look at what they're trying to top.
Back in 2017…