Be sure to Click LIKE at the bottom of this article, and share it everywhere!!
By Craig Andresen – Right Side Patriots on American Political Radio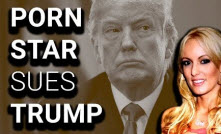 I think it's pretty obvious at this point that liberals have way too much time on their hands, because the nature of their arguments against sane people have grown disproportionally obtuse.
Take that porn actress for instance…the one that the mainstream media thinks is above reproach…she's suing President Trump for…of all things…defamation of character. If she wore panties, she'd have them in a bunch over what the President tweeted after she released a sketch of some dude she claims "threatened" her.
According "She Bangs a Lot," some random man walked up to her in 2011 and told her…"Leave Trump alone. Forget the story."
That's a threat? Sounds like something between an opinion and advice to me but being a liberal with time on her hands, and sans working brain cells…to her…that's a threat. Anyway, President Trump tweeted…"A sketch years later about a nonexistent man. A total con job, playing the Fake News Media for Fools (but they know it)!"
That's not defamation of character…